Forming a company in the European Union just got easier - and affordable!
A business in e-Estonia can be registered and managed entirely online, from anywhere in the world.
An entrepreneur, independent professional or freelancer running an online business enjoys the following benefits:
Register a company completely online, within a day
Low startup and ownership costs
No need to employ anybody on-site (incl. agents, directors, whatsoever)
Sign your documents and agreements electronically, with a Smart ID-card
Remote administration from anywhere in the world (including bank transactions, online accounting, reporting, etc.)
A zero-percent corporate income tax means more money to invest
Companies registered in the EU are regarded as more trustworthy - you can charge higher fees!
Simplified trading within the European Union. 0% VAT (Value Added Tax) for cross-border transactions
Minimal bureaucracy and clear legal framework
In Estonia, primary company income is not taxed. Instead, corporate income tax shall be paid upon profit distribution to shareholders (i.e. when paying dividend).
Managing your business remotely
Managing a business remotely eliminates the time and expense of travel. Estonian companies enjoy some of the lowest administrative burdens in the world.
Estonia is the first country to offer a completely unique value proposition - e-Residency, a digital identity available to anyone in the world interested in running a location-independent business online.
The e-services now available to e-Residents to administer their businesses have been used by Estonians for many years in running their own enterprises completely online.
e-Residency for Business:
No need to visit Estonia even for registering the business (you will get your e-resident's ID-card from a local embassy)
Remote, highly secure administration from anywhere in the world
No need to hire a local director, representative or agent (unless you want to) — thus minimizing risk, cost, and complexity
Declaring taxes and reporting online saves time and expense
State-provided online accounting software and online tax application minimizes corporate reporting burden
Online banking
Estonia is well-known for its user-friendly and secure online banking. The e-Resident's ID-card is already approved by major banks in Estonia, with minor-ones planned to join in near future. It's plain sailing to commit regular bank transactions completely online, regardless of your location.
Digital signature
Digital signatures have been available in Estonia for 15 years and used daily.
Agreements and other business documents can be digitally signed and sent to parties with a few clicks. No need to send papers via expensive international couriers.
As opposed to common misunderstanding, digi-signature provides a higher level of security compared to a handwritten one.
It's easy to email digitally signed and wrapped documents to partners.
The digital signature platform (Digi-ID) has paved the way for some of its most useful e-services including Company Registration Framework and Electronic Tax Filing.
e-Resident's smart ID-card
Operating with a legal entity in Estonia is based on e-Resident's Smart ID-card which provides:
digital identification, online authentication to secure e-services
digital signing of documents (see above)
digital verification of document authenticity
digital encryption of documents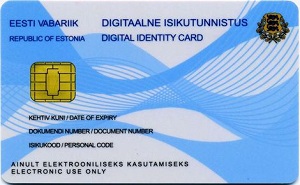 The e-Resident's ID-card and related e-services are built on highly advanced IT-solutions such as 2048-bit public key encryption. The smart ID-card contains a microchip with two security certificates: one for authentication (PIN1), and another for digital signing (PIN2).
Interested in e-Residency and incorporating a business in Estonia? Let's get started!